Availability
Simple solutions for account registration and investment creation
Get your profit now
How to start
Five easy strides towards prosperity
1. Account creation
All starts with the user creating a personal account. A personal account is a password-protected area of a company's website that is accessed only by a registered user who has created the personal account.
To create a personal account, click the Investor account button, select Sign up, and then follow the system instructions. At the same time, you create an own user name and password to log in to your account. Please note that you cannot create a personal account without the Terms of services acceptance.
Create account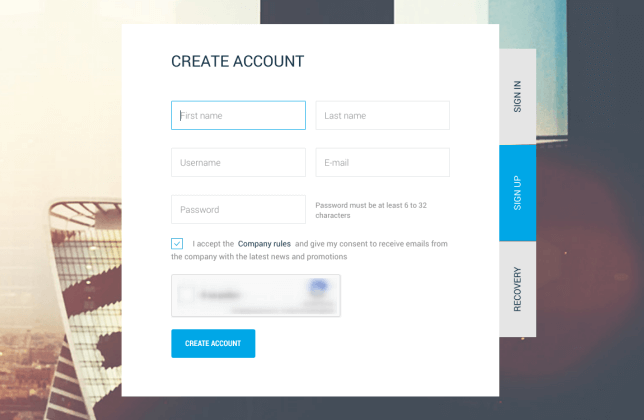 2. Investment choosing
After creating a personal account, the investor must on his own choose the set of investment proposals according to which he intends to place funds in the company. For this purpose, it is necessary to determine the amount that the investor intends to invest, as well as the yield that is provided by each investment offer of the company. Each investor on his own analyses investment offers and determines all related factors to ensure that his investment strategy is as consistent as possible with his investment vision.
Choose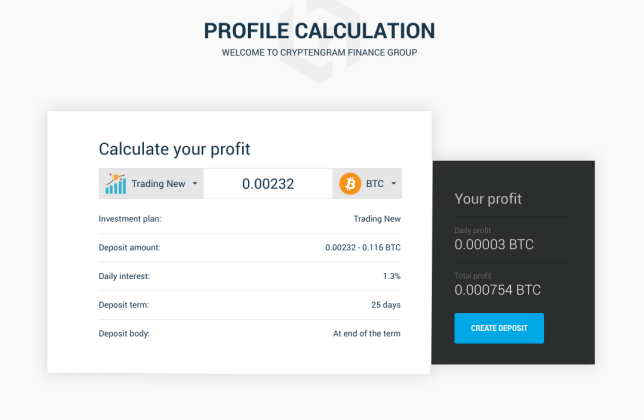 3. Funds adding
After the investor has made his choice, the moment comes to add investment funds to the account balance sheet of the investor. It is important that the money that the investor intends to add to the account balance corresponds to the currencies that are permissible for the investment process in the company. In addition, we draw your attention to the fact that when you add money from different payment systems to your account balance, their balance is not summed up. The system will provide the investor with several account balances, each of which will correspond to a particular electronic payment system.
Add funds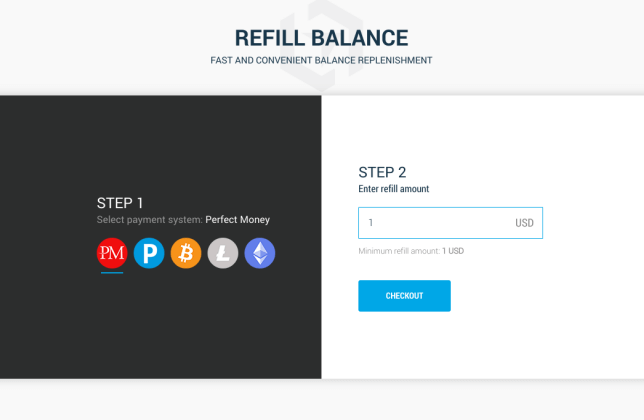 4. Funds activating
After the investor successfully added money to the account balance, the moment comes to activate the choozen investments. It is important to understand that the money that are on an account balance does not work! They don't make a profit for the investor. Only after activation the money will start to make a profit. To do this, the investor must select an investment offer or several investment offers in his personal account, depending on his own investment strategy, and activate them using the appropriate account functions and following the instructions of the system.
Create investment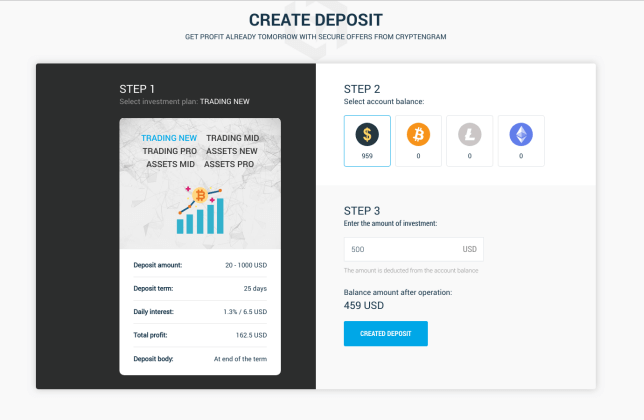 5. Profit withdrawal
Once the money has been activated (investments have been created), the investor starts to get profit in accordance with the terms of an investment offer. Accruals are performed automatically and are available for withdrawal on an account balance. All accruals are made according to the currency used at the creation of an investment. The amounts of different currencies cannot be summarized. We pay attention to the fact that in order to withdraw funds to the wallet the investor must create a request for withdrawal by himself. The request will be processed no later than 24 hours.
Send request